Are you looking for the best email marketing automation tool? Not sure if ActiveCampaign is the right tool for your company?
You've come to the right place. In this article, I'll walk you through every aspect of ActiveCampaign and help you decide if it's the right marketing automation tool for your company.
Having said that, I recommend reading all the way to the end to learn about its benefits, drawbacks, and my personal thoughts on it.
If you want to learn more about ActiveCampaign while reading this review, click the link below to get a 14-day free trial.
What is ActiveCampaign?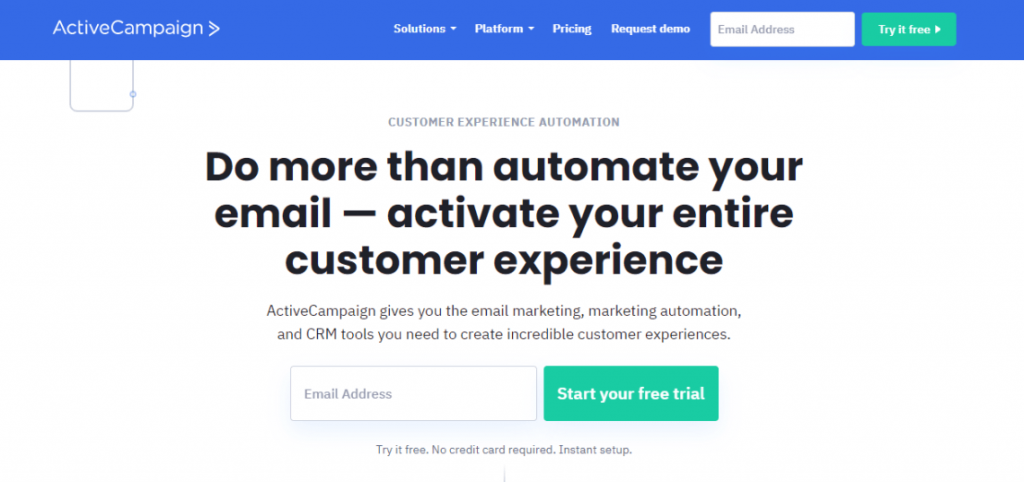 ActiveCampaign is an all-in-one marketing automation software that includes a sales CRM.
It allows you to nurture potential leads, create automated campaigns based on a variety of conditions, and provide an easy-to-use drag-and-drop builder for creating and editing emails.
ActiveCampaign bills itself as the best customer experience automation platform. It offers a wide range of features that can help you gain a competitive advantage in developing loyal customer relationships.
Before I get into the details of ActiveCampaign, let me give you a rundown of the features that this fantastic tool offers marketers:
Email marketing
Marketing automation
CRM stands for Customer Relationship Management (deals and leads)
On-site tracking
SMS/On-site chat
Reporting
Integrations
Having said that, let's take a closer look at each feature and see if ActiveCampaign is the right automation tool for your sales and marketing team.
ActiveCampaign Review : Features
In this section, I will go over all of the features and functionalities that ActiveCampaign has to offer, as well as walk you through my experience with the tool.
Let's start with its most important feature, marketing automation.
1. Marketing Automation
ActiveCampaign is well-known for its incredible automation features. The visual automation builder is versatile and simple to use. To create the workflow, simply drag and drop the elements, and all changes are automatically saved.
As shown in the above image, you can add multiple triggers based on your needs. By clicking the '+' icon, you can also add emails to the automation flow.
Personalization is another aspect that will bring life to email marketing campaigns. ActiveCampaign enables you to do this by allowing you to add dynamic content and personalized elements to your email copy.
ActiveCampaign's automation capabilities go above and beyond your expectations. It has a good selection of automation templates that you can use to create automation for –
Follow up sequence
Upsell and Resell
Increase referral traffic
Team collaboration
And many more…
2. Email Deliverability
Email deliverability is a major barrier to the success of email marketing campaigns. ActiveCampaign's spam filtering functionality ensures that all of your emails arrive in the inboxes of your subscribers.
You can ensure that the emails you send are entirely legitimate and error-free by keeping an eye on spam checks.
ActiveCampaign has one of the highest email deliverability rates, ensuring that your emails reach as many people as possible in their primary inbox (not in spam or promotional tabs).
3. Email Marketing
To get started, ActiveCampaign offers six different kinds of email campaigns. It provides the following campaign types:
Standard
Automated
AutoResponder
Split Testing
RSS Triggered
Date based
With its simple drag-and-drop email editor, you can move blocks and design a perfect email body in a matter of minutes.
Additionally, it allows you to hide and show specific content blocks on mobile devices for better design and experience.
To make your life easier, ActiveCampaign provides stunning email templates that you can easily customize – you can style elements, place blocks, and be formatted to include various functionalities.
It also allows you to create your own templates and reuse them for future campaigns.  So, it's clear that ActiveCampaign will save you a lot of time and energy in designing email campaigns.
4. CRM & Sales Automation
ActiveCampaign's CRM is indispensable because it handles all of the activities required to build a perfect sales pipeline.
It ensures a smooth flow of activities by notifying your sales team when a new contact is captured, creating new tasks, updating the deal's status, and automatically nurturing leads for further follow-ups.
You can automate your sales funnel and segment leads based on their activities. It is also possible to send notifications to your sales team when it is appropriate to follow up with leads.
It allows you to track the performance of your team members and assign tasks to them manually or automatically. This improves team cohesion and places all critical data at your fingertips.
ActiveCampaign also has a compelling feature called lead scoring and win probability.
The win probability employs machine learning to calculate the conversion probability of your deal, allowing you to determine whether it will result in a long-term customer or not.
Since lead scoring is such an important concept in marketing automation, I'll go over it in detail in the following section.
5. Lead Scoring
By assigning points to contacts based on their engagement, ActiveCampaign's lead scoring tool enables marketing and sales teams to identify the most promising leads.
ActiveCampaign provides two types of lead scoring: deal scoring and contact scoring.
A deal score is a numerical value assigned to open sales pipeline deals. It indicates how well a specific deal has been nurtured, allowing sales to prioritize it for follow-up and closure.
A Contact Score, on the other hand, is a value assigned to email contacts – subscribers and resource downloaders. Marketers can use it to identify the most engaged contacts, and thus the marketing qualified leads.
ActiveCampaign allows you to assign points and create specific rules to add or subtract points based on various factors such as page visits, purchase history, resource downloads, email opens, link clicks, and so on.
6. Advanced Contact Segmentation
Throughout their journey, segmentation is critical in providing a personalized experience to leads, prospects, and customers.
You can send the right messaging to the right group of people at the right time by using segments.
ActiveCampaign allows you to create segments out of anything based on the data in your database. Here are a few examples of how to segment data:
Based on contact details: Email, First Name, Last Name, Full Name, Phone, Organization, Date Subscribed, Time Subscribed, IP Address, Tag, and Total Conversion Value
Based on custom fields in forms:  Any custom fields you create.
Based on Deal attributes: Has something to do with status, Has a deal in the works. Has a deal with value, Has the deal been assigned to, Has a total number of transactions Has a total number of open deals, Has a total number of lost deals, Has a total number of won deals, and a deal with a title.
Based on actions & inaction of contacts: Has clicked on a link, Has not clicked on a link, Has started, Has not opened an email, Has socially shared Has forwarded the email, Has not forwarded, Has responded to the email, Has yet to respond, In list, Not in list, and Subscribed with a subscription form.
Based on geographical locations: Country, State, City, Zip, and Area code.
Based on on-site and event data: Has visited, Has not visited, Was referred from, Visiting device, Total page visits, and Total site visits.
Based on Attributes: Has source, Does not have a source, Does not have medium, possesses medium, possesses medium, possesses medium, possesses medium, possesses Has a campaign, does not have a campaign Has a term, does not have a term Has content and does not have content
ActiveCampaign also allows you to use 'AND' and 'OR' logic and multi-dimensional conditions for more in-depth and refined list segmentation.
The fact that the ActiveCampaign segment builder is available across the platform distinguishes it. You can create segments from the contact page, contact list page, automation builder, and email campaign page.
Essentially, ActiveCampaign allows you to create segments out of anything based on the data you already have. And they've made it very simple for you to create as many segments as you want.
Here's a look at the segment builder within the automation builder –
7. On-site tracking
On-site tracking is probably the most important feature for marketers who want to proactively target and follow up with website visitors.
Installing a small piece of code on your website allows you to actively monitor visitors and convert them into leads, and then into paid customers.
Site tracking in ActiveCampaign includes additional features such as the ability to trigger automation when a contact views any page on your site and to apply lead or contact scores based on visits or views of specific pages.
When you combine data from site tracking with other behavioral observations, you can easily map out what your contacts require and target them on other relevant channels, resulting in more conversions.
This ultimately helps you understand your customers' needs and allows you to provide a personalized sales and marketing experience.
8. Messaging & Chatbot
Along with email, ActiveCampaign provides multi-channel conversation tools such as Facebook messenger, text messaging, chatbots, and live chat.
All conversations are managed in a unified interface, so you won't miss a single detail. When a visitor submits their email address to the chat agent, you can set up automation workflows to begin communicating with them.
ActiveCampaign's Chatbot allows you to customize each chat, update custom field data as needed, and add tags to contacts, allowing you to effectively segment your contacts.
It also allows you to send automated text messages, which establishes strong connectivity with your subscribers. You can send appointment reminders, thank you messages, flash sale notifications, coupon code delivery, and so on.
Customers today expect instant responses from brands, and if you can't deliver, you may lose a potential customer. ActiveCampaign understands the difficulty. That's why they offer a mobile app for iOS and Android devices, allowing your team members to stay active from anywhere and respond to queries instantly.
9. Landing Pages and Form Builder
Last but not least, ActiveCampaign allows you to create personalized landing pages and offers a plethora of beautiful templates.
The landing page editor is good, but it could be better by giving design elements more flexibility and adding more features. However, you can easily integrate with other landing page builders to create more effective and convertible landing pages.
The form builder is up next. It provides various form types that you can embed in your website to collect potential leads.
It's also worth noting that automation can be triggered when visitors take a specific action on your form.
10. Analytics & Reporting
ActiveCampaign offers a plethora of reporting options that you can use to analyze campaign performance and optimize it for better results.
It provides a variety of reports such as Campaign reports, Automation reports, Goal Reports, Deal Reports, and much more.
The Report tab displays all of your automation, as well as the number of people who interacted with it and how many of them completed it.
It also displays open trends by the hour and weekday, allowing you to adjust your email sending frequency to achieve the highest ROI possible.
You can also see a complete breakdown of all your deals based on various criteria such as status, value, pipeline type, duration, and so on.
It also enables you to build a high-level data-driven strategy by creating custom reports based on automation engagement trends, deal value based on forecasted close dates, and so on.
After discussing ActiveCampaign's extensive feature set, let's move on to other critical considerations – integration and pricing.
ActiveCampaign Review: Integrations
One of the most important features we look for in a tool is its ability to integrate with other tools, particularly those you already use. Right?
Fortunately, ActiveCampaign has a plethora of integration options. With over 850 apps ranging from accounting to CRM and CMS, you have complete control over which applications you want for better automation and data flow.
Salesforce, WordPress, Shopify, Facebook, Google Analytics, Unbounce, and other well-known integration apps are available.
If any of your existing enterprise plans, starts at $279/month, ng tools are not included in the list, you can always use Zapier to connect ActiveCampaign with other tools.
ActiveCampaign Review: Plans & Pricing
ActiveCampaign has four pricing tiers: Lite, Plus, Professional, and Enterprise.
Here's a breakdown of each plan for up to 500 email contacts –
The Lite plan starts at $15/month and includes a good set of features for small businesses.
The Plus plan starts at $70 per month and includes lead scoring, SMS marketing, CRM, and much more to help you grow your business.
The Professional plan starts at $159 per month and includes features such as win probability and split automation.
Finally, the enterprise plan, which starts at $279/month, serves as a complete powerhouse of sophisticated features.
Please keep in mind that the price of each plan rises as the number of contacts in your database grows. As a result, you must maintain clean data and only pay for useful contacts.
ActiveCampaign Review: Pros and Cons
Based on my comprehensive review, the following are ActiveCampaign's pros and cons:
Pros
ActiveCampaign has a robust automation builder that is simple to use, and you can build automation for anything using the various trigger options available.
It ensures high email deliverability, which aids in meeting your campaign objectives and goals.
It provides an integrated sales and marketing platform to keep the sales and marketing teams in sync.
It provides various analytics data in the report, measuring the ROI and allowing you to make strategic decisions.
It offers free implementation and migration services from your existing software, which can be a huge benefit for newcomers.
Cons
For beginners, the learning curve is a little steep.
It has a lot of advanced features, which can be confusing for newcomers. I'd recommend starting with the Lite or Plus plan and then upgrading once you've gotten a handle on the tool.
The cost of each plan rises as the number of contacts increases, which can have an impact on your monthly budget.
Is ActiveCampaign the right automation tool for your business?
By now, you should have a good idea of what ActiveCampaign is, what its features are, and how effective it can be for your sales and marketing team.
ActiveCampaign is one of the most powerful automation tools, and it is ideal for any organization that understands marketing automation and knows how to properly leverage it.
So, my question to you is, is your team ready for ActiveCampaign?
In my experience, not every business is ready to adopt an advanced marketing automation tool like ActiveCampaign, and I recommend ActiveCampaign to businesses that meet the following criteria –
You have an enticing website.
You have a marketing team of at least three people.
You have a well-defined marketing strategy.
You've created ideal customer profiles and buyer personas.
You've figured out where your customers will come into contact with you.
You've decided on your preferred marketing channels, and one of them is email marketing.
These are some of the most important factors in ensuring the success of marketing automation for your company. So, if your company does not meet any of the above criteria, I recommend that you focus on it or use basic marketing automation tools like Convertkit.
And if your company meets all of these requirements, ActiveCampaign is the best tool for you to automate your customer journey and other repeat marketing tasks.
Get a 14-day free trial of ActiveCampaign
ActiveCampaign is a powerful marketing automation software that is also one of our most recommended marketing tools for small businesses in the B2B and eCommerce space.
You can use ActiveCampaign to automate the entire journey of your leads, prospects, and customers. Now, if you want to take marketing automation to the next level and believe ActiveCampaign is the right tool for you, please do me a favor and sign up using my affiliate link (button below)